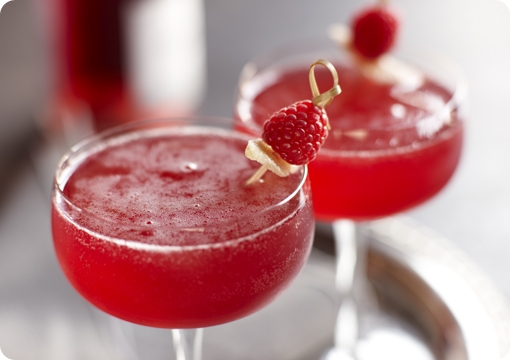 I've been on a weird bellini kick lately. In a way, they are the perfect cocktails to mix for your friends on New Year's Eve while you are all sitting around and waiting for the ball to drop. The bellini is light, not too boozy (you have all night, pace yourself) and – when done properly – just sweet enough. Here's a great recipe to try for your New Year's Eve gathering.
Ingredients
2 tablespoons (1 ounce) Domaine de Canton (ginger liqueur)
1 tablespoon (1/2 ounce) lemon juice
1 tablespoon (1/2 ounce) simple syrup
4 Driscoll's Raspberries, plus one for garnish
Ice
6 tablespoons (3 ounces) Chandon Rosé or Sparkling Rosé
Candied ginger for garnish
Directions
Combine the Domaine de Canton, lemon juice, simple syrup and 4 raspberries in a cocktail shaker. Top with ice and shake vigorously. Add Chandon Rose or Sparkling Rose in a champagne coupe glass. Strain shaken contents into glass with Rosé. Garnish with a skewer of raspberry and piece of candied ginger.
Image and recipe via.