Here's what you need to know about the mega sales… I'll be giving you updates as they come in!
Betsey Johnson:
Betsey Johnson's HUGE Black Friday offer: 40% off everything in the online store from November 27-30. Just use code Bonanza at checkout. Orders over $200 ship free. There is a bit of fine print: the discount doesn't apply to jewelry, intimates or swimwear, and it doesn't include the outlet store.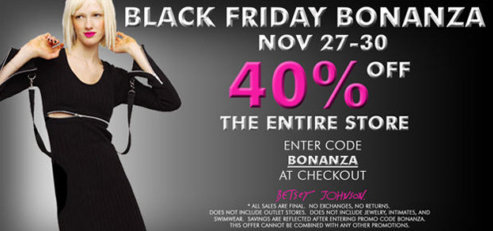 Neiman Marcus is also offering a huge deal for Black Friday shoppers!
If there's a Neiman Marcus in your area, get up early on Friday, November 27!  All Neiman Marcus stores nationwide are participating in an amazing deal: If you spend $100 or more, you'll get a $50 gift certificate. That's essentially a 50% off deal, if you happen to be spending right around $100.
This is only taking place for three hours: 9:00 am to noon on Friday, November 27.