Valentine's Day is really only a thing because tradition says it is. I read that in Roman times, Valentine's Day was part of a festival called Lupercalia, where grown-ass men would get buck-naked and beat women with animal hides. I am not sure exactly how this event was bastardized into a day where couples fail to live up to each other's expectations and single people eat their own weight in chocolate or get shit-faced, but here we are.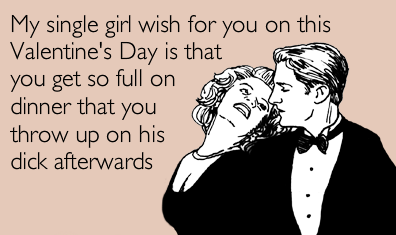 Traditionally, there is no day in the calendar year that makes single girls feel worse about themselves, since everyone knows your eggs are only good for about 45 years. To remedy that, I thought I would put together a gay man's guide for single girls. If you find yourself unsure of how to face the day, just do the following things:
Make a new start by deleting old ex-lovers– Valentine's Day is a great day to revive your love life, and one way to do this is to delete your toxic ex-lovers from your contact list. I know this is a difficult thing for people (in fact, I did it once only to find that his number showed back up after I synced my phone). Treat Valentine's Day like a sort of New Year's Day for your vagina, and resolve to stop riding that old dead horse. Start by de-friending him or her on Facebook.
Trim your pubes– This should go without saying. You should trim your pubes every day. I don't care if you are as bald as John Travolta or as bushy as an African muskrat, you should keep your pubic area under control, because you never know when you are going to get laid. The chances of your desperate-to-get-some ass meeting a guy that is just as lonely, double on V-day, so make sure your vagina is ready to receive visitors.
Eat whatever the Hell you want– Its Valentine's day, and you should celebrate by eating whatever the Hell you want. Traditionally, girls in relationships eat chocolate while single girls go hungry because coupled girls don't have to worry about getting fat since they have already settled for a guy that doesn't leave skid marks in his tightey-whiteys. Chances are, these girls will have some routine couple-sex later and fall asleep bloated and content. You are sexy and single, and on Valentine's Day you should spit in the face of convention and get your bitch ass to IHOP. You never know where this day is going to take you. That is a gift.
Go to the gym– Eating whatever you want is all well and good, but a bitch still has to look good. Not only will going to the gym counter the pound of blueberry pancakes you just devoured, but it will also release endorphins, which will counteract any feelings of depression or loneliness that may be lingering on the horizon. The gym is also a good place to meet guys, and after all, you did trim your pubes this morning.
Do some cutesy beauty shit– After you sweat it out at the gym, you should take some time to pamper yourself. I don't care if it's a facial, mani-pedi-botox, or a massage by a hulking Swedish woman, you should relax and take care of yourself today. Looking good is a big part of feeling good, after all.
Tell all your friends how much they mean to you– Unless you are Ja'mie, Private School Girl, you probably don't let your friends know how much you love them on the daily. Love comes in all forms, and I am willing to bet that even at your loneliest, you still had friends that were willing to drop everything to make you feel better, or grab a baseball bat and destroy your ex's new mustang. Take the chance today to tell the people you love how much they mean to you, regardless of romance.
Make some kind of plans– It doesn't matter if you are doing a Groupon dinner and a movie with your roommate (my plan) or passing out soup to blind orphan cats in a blind orphan cat shelter, idle hands are the devil's playground. Idle hands will most likely find some way to dig up their ex's contact info from an old backup and end up in a hate-fuck situation in a grungy walk-up studio with coffee filters instead of toilet paper. If you don't want to be alone, then don't elect to spend your Valentine's Day alone. Remember that 80% of the single women out there feel the same way you do, so go out and do something about it.
Your pubes are ready and raring to go, after all.
[
via
]