"Together We Can Help Combat the Spread of Sexually Transmitted Diseases…"
…by logging our sex life?
After spending a night perusing the interweb for all things sex-related, I came across MyBlackBook, a personal sex organizer of sorts that allows you to log each and every mind-blowing (or mind-boggling) sexual encounter you've ever experienced, with whom and how hot they were, in which position, how often, and the kind of… activities that took place during each romp sesh (options include "Watersports," Voyeurism," and "Biting"). 
Of course I couldn't resist, created a faux account, and did some logging of my own to see what it was, exactly, that this BlackBook was all about: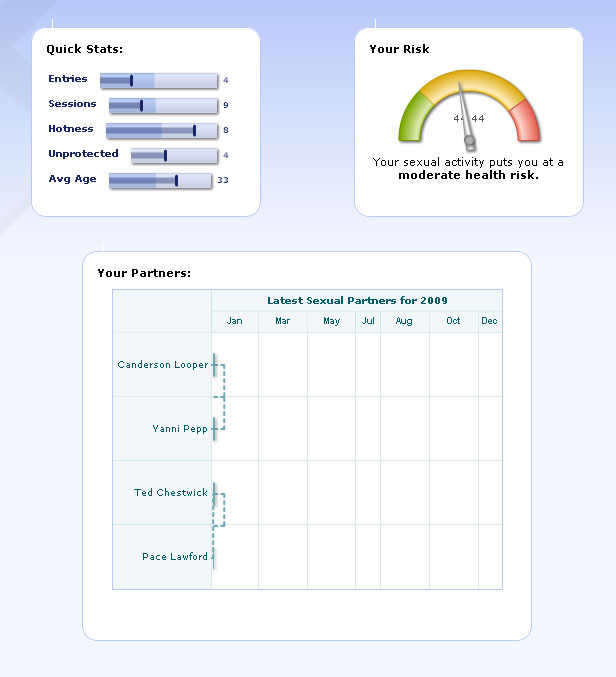 Upon inputting the names, birthdays, gender, sexuality and virginity info of all my lovers, I was prompted to fill in exciting fields such as "Length" (in minutes, not inches), "Protected" (yes or no), and "Threesome" (a drop down menu of other partners to link to). I can even attach a picture to every partner's profile in case I forget their faces, which is incredibly helpful and saves me the embarrassment of the "Who Are You, Again?" conversation. I mean, it is quite the project to keep track of all these men…
But anywho, once all these details had been entered in, MyBlackBook calculated my risk of contracting and spreading STDs while also compiling charts and graphs depicting my daily, weekly, and monthly sex histories. Apparently, after having unprotected sex twice with both Ted Chestwick and Canderson Looper, my STD risk is moderate – a firm reminder that I should always demand wrappage, even if dude's name does rhyme with my favorite news anchor's.
So that's the gist of it! Record every detail of your sex life so that a computer can statistically analyze your sluttacious activities and gauge your risk. My take? I think it's a little much – there's barely enough time in the day for me to sit and have my coffee, much less to log my sexual experiences into a nosey organizer. As for preventing STDs, my advice is if you aren't wrapping it, maybe you should abstain, considering you can get condoms on the cheap or for free just about anywhere in NYC. No excuses!
Here's to a happy and healthy sex life for everyone in 2009, with or without MyBlackBook.