I have a friend in her thirties…who has started to feel a lot of pressure to find The One. And I can totally commiserate as I am not far behind and I basically feel the same thing.
And it just so happens that while my friend was home for the holidays, she ran into formerly single friends who were in new relationships and were blissfully happy…and they had *all* found their soul mates via eHarmony.
A proverbial seed was planted…and she came back to the city to tell me of her discovery…
And…as I've already bleated out to the Internet ad nauseam, 2010 is supposed to be the Year of Lisa. This means two things – I'm focusing on things I can control and on things that make me happy. I cut out a lot of dead weight at the end of '09 because it was really important to me to start the New Year with a clean slate. And I'm not supposed to be actively looking for Mr. Wonderfulpants anymore. I'm supposed to be happy with me. But, at the same time, it's been damn long since there's been an actual solid, stable, nice, decent person in my life with an X and a Y chromosome and I started to think maybe it wouldn't hurt to look…and THEN my horoscope in the Daily News said, "In this day and age, there are definite benefits from cultivating your online skills and experience. Internet dating has become a phenomenon, and it could introduce you to the person of your dreams. Explore new avenues for bringing love into your life; it can open your eyes and heart in more ways than one. But, at the same time, be cautious," and I figured it all had to be a sign.
I've pretty much steered clear of Internet dating all these years to avoid the scourge of saying, "We met online," for the rest of my life. Plus, there are so many sites out there – how can you possibly distinguish one from the other? (A friend in Seattle was lookin' for love on the Internet and I asked him this very question and he said, "Because I'm sick of meeting chicks at bars…" and I said, "No – I mean, why did you choose the site that you chose?" and he didn't have a good answer for me.) So…between my friend's friends and Jennifer Angel, it seemed like I couldn't not give eHarmony a shot…if only to see what was out there.
So…last weekend, my friend came over, but she was a little hesitant, so I volunteered to create my own profile first to show her just how easy it was. (…after coming up with our Jersey Shore nicknames, that is. She's "The Good Time," and I am "The Position.") I answered all the questions…I filled in all the blanks about the three things that I am most thankful for…and I uploaded a photo (…perhaps unfairly, from my makeover…) and eagerly waited for eHarmony to scientifically calculate which man I was destined to be with.
And – gotta say – what followed was…a bit of a disappointment. EHarmony certainly sent me a number of options…but, after carefully reading their profiles out loud to my friend, we determined it was a whole lot of nothing.
Granted, I didn't cough up any money, so I couldn't see photos…and I'm pretty shallow, so I imagine images would have helped whittle down my list considerably.
But, other than that – and with the exception of their names, too, I guess – they all basically seemed like carbon copies of one another…and I wonder if eHarmony is not so much scientific as it is a device that spits out a lot of options at you everyday. Think about it — if you get seven new men every morning for a month, that's 217 to choose from…at which point it becomes something of a numbers game, doesn't it? And instead of waxing lyrical about your compatibility, perhaps Dr. What's-His-Name is really thinking, "Keep this up for a year, and I will have thrown over 2600 men at you! There's no WAY you can't like one of them!"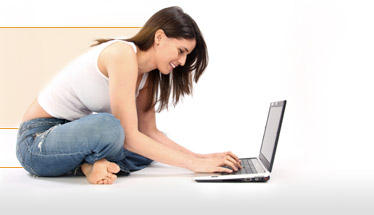 Because, gotta say – they give you all this info about Him…but it's all sort of meaningless. It's really hard to look at a list of the Top Four Ways His Friends Would Describe Him and make any distinctions – they all say they are loyal or fun or trustworthy or the like. And they're all thankful for their families and friends. And they all couldn't live without Italian food and jogging in the park. And these are all admirable descriptions and I certainly like pasta as much as the next guy…but I don't see how *any* of these qualities are a scientific match with ME as a person.
And…I read this in a recent story, so I should give it credit, too…but I totally commented to my friend that I thought the emails from eHarmony each morning were a little overbearingly PRish:
"Meet Scott, he could be what you've been looking for…"
"Meet Kevin, we've matched you on the important areas of life…"
"Meet Brendan and see what a difference compatibility makes…"
I'm beginning to suspect that eHarmony's magic formula is less "complicated algorithm that plebeians couldn't possibly understand" and more User's Desire to Be Matched + Strong-Arming = Relationship.
PLUS, a lot of my matches were pushing 40 and lived in New Jersey and had really bad grammar. And if eHarmony knew *anything* about me, it would know that 1. Older men kind of freak me out and 10+ years is waaay too much; and 2. Bad grammar makes me insane. Case in point: I sort of went out with this guy, like, ten years ago who called me "the grammer nazi," in an email once and it was like, "Oh, honey, I rest my case…" (Brief aside: This was the *same* guy who wanted to go to leather tanning school to take over a family business…and I was going to school in LA at the time and all of my friends thought it was absolutely hilarious that I had romantic ties to a future leather tanner…and I totally defended him – "Leather tanning is a very noble profession!" – until he invited me to his mother's wedding and I showed up only to discover that not only did he already have a date, but she was in a totally slutted-out dress…so it was, you know, fairly embarrassing to be the conservatively dressed third wheel…so I had a drinkie or two and started calling her, "Horse Tooth Boobie Girl" – because she was – and, to make a long story short, he ended up having sex with her in a bus stop during the reception. And then he failed leather tanning school. [Can I pick 'em or what?])
So…I don't know. Maybe it's my fault and I should have listed "the English language" as one of my "likes." And then eHarmony would have sent me men who know the difference between "you're" and "your" and there/their/they're? Is that too much to ask?
And…poor Peter from New York. He "reviewed (my) basic information and (wanted) to start the process of getting to know (me) better," and sent me five multiple choice questions. And I don't know if Peter specifically picked them or if it was eHarmony's doing, but…I don't think they were particularly enlightening either.
I mean, there was one question about what I'd do if I stayed in for the night…and I guess if I wrote in an answer instead of selecting their choices and said, "I never stay in! My motto is, 'Live fast, die young and leave a beautiful corpse!'" and Peter is more of a wallflower, he would immediately know that we aren't such a good match. But…other than that, the answers were pretty innocuous: watch TV; read a book; talk on the phone. I don't know how any of those selections really says anything about me.
And then there was the one about how busy I want my partner to be…and how much time I want to spend with him. This, I assume, is meant to highlight the Stage Five Clingers and so if I responded, "I want a partner who has lots of free time and doesn't want to do anything but spend it with me!" he can say, "Okay. This chick is whack. I'm moving on." (It sort of reminds me of @needygirlfriend and @aloofboyfriend on Twitter…)
So, I mean, I'm sure eHarmony works for some people…and I could very well be a freakish outsider on this one (…and it certainly wouldn't be the first time in my life…). And maybe I really *am* firmly entrenched in the Year of Lisa and am just not in the right mindset to find luuurve. (In eHarmony's defense, my experiment lasted less than a week.)
But perhaps the worst part of this experience was when I decided to close my account (I'm sorry, Peter! I'm sure you'll make another woman very happy someday!) and eHarmony kept telling me what a huge mistake I was making and I kept saying, "Yes, I'm sure!" "Yes, I'm sure!" and when it was finally over and done with – I was no longer an active eHarmony member – what do you suppose they did? They slapped a HUGE ad on the screen that said, ""HE STOPPED CALLING. This may be why! Avoid these common mistakes with men. Click here to read more!"
And if that doesn't reinforce my point that they're playing on insecurities, I don't know *what* does.
So…the moral of the story: I'm okay with good ol' L-Squared for now.