The holidays are steadily approaching, so I'm sure you have already started thinking about what gifts you are going to buy for the vacuous whores that you call your friends. What do you get the girl who has everything, you ask? A $600 lipstick bust sculpture of a female icon, of course.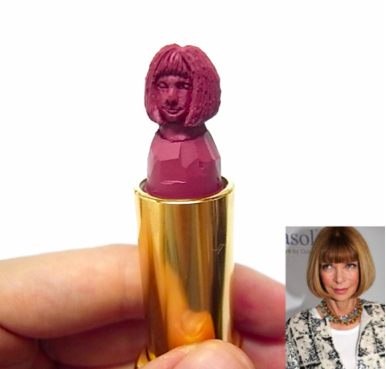 The queen of the fucking universe, Anna Wintour.
Hong Kong based artist May Sum carves up brand name lipsticks all in the name of art, as part of a sculpture series that she says celebrates strong iconic women. For just 6 c-notes and a short trip to Etsy, you can choose your own brand of lipstick and commission a bust of anyone iconic, from Lady Gaga to Coco Chanel. My only piece of advice is that you don't leave your lipstick sculpture in the car on a hot day, or all you will have left is a $600 stain on your center console.