I'm back from Canada and ready to spill my thoughts!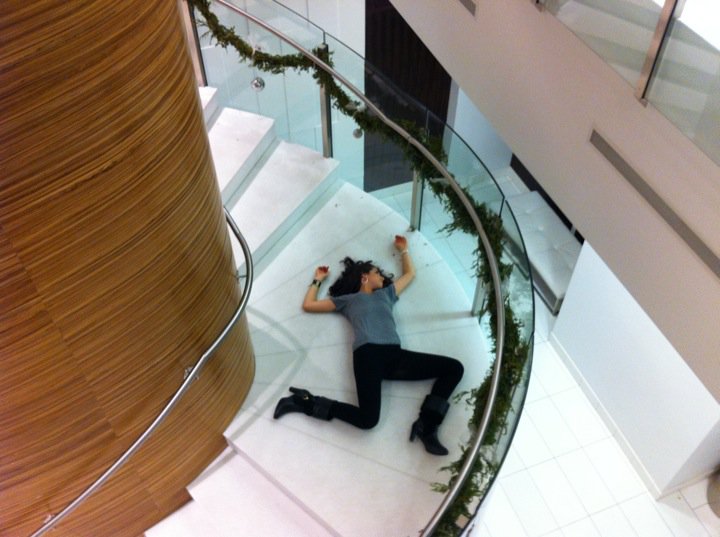 1) There's No Feeling Like A Silly Feeling. A few nights ago I flew up to Toronto to see one of my dearest, wildest friends. We don't need to be in some wild nightclub to be crazy- it just sort of comes to us naturally as soon as we're within a few meters of each other. By the time I arrived at her building on Thursday evening we were in full photo shoot mode- snapping pics on just about every surface you can imagine. Sure, the neighbors had things to say. And sure, we looked stupid… but we had a good time. I'm going to go out of my way to be as silly as possible in 2011 because I think it feels pretty damn good (and when you're raising a toddler it's better to be ultra silly anyway).
2) I Love Toronto, Hard. I do. I don't care if all the people wear subdued fashion and are totally overwhelmed by my bright pink nail polish- I have a good time there. It's like a bearded mountain man had a baby with a total guido and named it "Toronto." So good.
3) I FOUND MY LIZARD! Well, sort of. Here's the deal: several months ago a man from a far off land was trying to court me. He sent me lizards and flowers in an effort to win my affection (it was a pretty smooth move). Soooo… I had 3 lizards for a while- Phyllis, Danielle, and Myones. Myones and Danielle murdered Phyllis, and then Danielle ran away so I was just left with Myones (the only dude lizzie). I went to put water in the terrarium the other night and Myones hopped out. It was pretty scary for me on a few levels. I mean, what would happen to Myones? Would he crawl up the chimney and roam around New York till freezing to death? Would he lurk beneath my sofa till I felt something gross on my neck while watching a movie one night? Ugh. Too much to even think about.
Today, when I returned from Toronto, I noticed Myones was happily hanging out in his terrarium with his lights on and all that jazz. WIN! My nanny found him, caught him, and threw him back in his little glass house. SHE IS BRILLIANT AND WILL BE REWARDED.