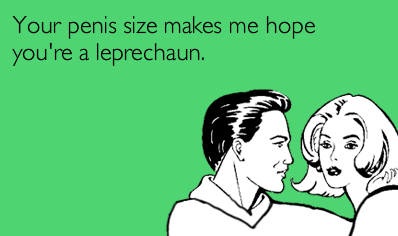 I don't really consider myself to be a size queen (if you are reading this site I assume you have met a gay man in your travels at one point, and know that a size queen refers to someone who only likes well endowed men) but in the 27 'cough' years that I have been alive I have seen a decent amount of dicks. Big, medium sized, small, and and oddly shaped dicks of varying ethnicities have thrown themselves at me from all angles, and I have probably said yes more times than not. Every dick is attached to a person, however, and that person has an ethnicity. So here is the breakdown:
Italian/Jewish dicks: Require a toothpick and some rinsing water. In my experience both Italian and Jewish guys are pretty well endowed but they both trend to the hairy side. Honestly, after a saucy summer night with an Italian guy once I coughed up a hairball the size of Rhode Island. I think perhaps God was drunk when he invented the chosen people, as the older they get the more the hair migrates from their heads to their backs.
Eastern European dicks: Honestly my favorite right now (Probably because the guy I am seeing is European and huge). Generally however, penis size in Europe varies greatly. They may not always be the biggest and with their lack of color they may resemble a hairless cat, but the great thing about European guys  is that they have the panty dropping accent, but you can still understand them when they say "You're leaving after we are done, right mate?"
Puerto Rican dicks: I tend to stay away from them. A Puerto Ridcan dick is an angry dick, even though they are generally pretty large. Puerto Rican dicks are normally attached to hairless brown gentlemen, and honestly if I wanted that I would just screw myself. I'm brown. And hairless. Not to mention, Latinos are generally very passionate people, meaning that if you can even get through a blowjob without them getting angry or jealous you should count yourself lucky. But Jesus, they're so hot and spicy (again, like me).
The moral of the story here is that every single tiny dick I have ever seen has belonged to a white American male. I don't know what it is about the US, but I am starting to think that we didn't migrate here to escape England. I think perhaps England was trying to rid itself of all the tiny dicks. Luckily, America is a melting pot, and through the mixing of cultures and ethnicities we have almost entirely bred all the tiny penises away.
Stem cell research anyone?
[ img
via
]