Rushed, hectic mornings don't mean a lack in shower power. Check out our top list of in-shower products to make the most of your morning rinse.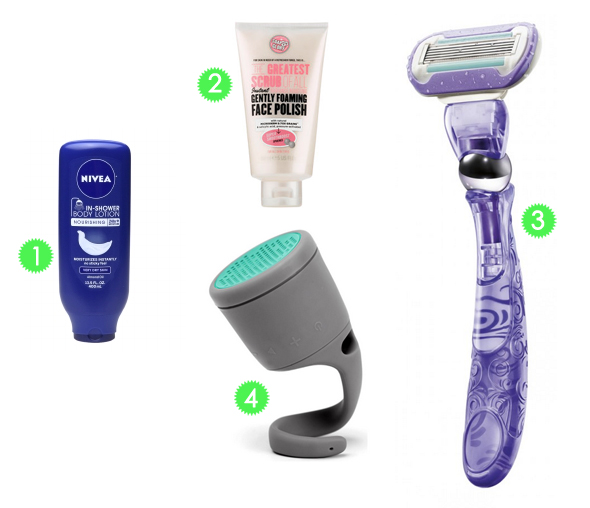 1. In shower body lotion. NIVEA's first ever in-shower body lotion is a real game changer for anyone with a time budget or a knack for showering in semi public places like a gym locker room. You simply wash your body as normal with your fave soap and then slather a bunch of this rich, creamy formula on all your best body parts. The rich cream immediately goes to work sealing moisture in, and a few seconds later you're free to pop back under the water to gently rinse it off (no more soap). By the time you dry yourself you'll be smooth and hydrated for hours to come without the hassle of lotioning or lifting your legs in weird ways on locker room benches. Talk about shower power! Available here.
Read more: Easy Beauty Resolutions to Make and Keep
2. It's a scrub, it's a foam, it's super! Soap & Glory makes some great products, but if you're a gal with combo skin and are prone to some T-zone blackheads, "The Greatest Scrub of All" will perfectly lift away dirt, debris, and gunk from your problem areas with tiny little exfoliants, while the foaming action will more gently cleanse your less problematic areas (the only difference is really the amount of elbow grease you put into each area). It's a one-stop shower power shop, available here.
3. Don't miss strays. One of the biggest complaints women have about shaving in the shower is that there's always the inevitable stray, missed hairs. We've all had a rogue underarm or knee hair ruin our sexy dress game, and Gillette Venus' newest razor is putting an end to all that. The new Venus Swirl has a 360 degree swivel head which means you'll actually be able to get into all those nooks and crannies (and be able to use the same razor for legs, underarms, and bikini areas). Better yet, the handle will still fit all your other Venus cartridges just in case you're overstocked on your old ones. Available here.
4. Decent in-shower music. If you're in your own home or a hotel room, there is simply no reason not to have happy, upbeat music to start your day as you shower. In fact, you can use the 1-song trick to determine the right amount of time to let your conditioner seep into your locks. Find a cute, water-resistant bluetooth speaker model to blast your favorite Pandora or iTunes beats till your power shower routine is all wrapped up. This colorful version is available here.