My very real Tria Age Defying Laser review.
All the normal things we hear and know about how to keep our faces ageless are all well and good, but, sorry– my life doesn't permit me to eat completely organic, vegan salads all day and spend the rest of my time sleeping and never making contact with the sun. The truth is, I'm too busy between work, making and raising kids, and maintaining a social calendar that rivals an 18 year old version of myself to devote all the proper resources to keeping my skin exactly the way I want it– and now I'm taking extra measures (just before my 30th birthday!) to keep the age goonies at bay. I'd like my skin's age to match my emotional age, so I recently started using the Tria Age Defying Laser (I found this site offers the best prices and return policy on the devices).
READ MORE: How to Use Turmeric for Acne
The Age-Defying Laser promises to treat multiple signs of aging by stimulating the production of collagen and elastin. The device works by emitting targeted beams of light that work below the surface of the skin activating your skin's natural cell renewal cycle to rebuild collagen and visibly improve skin. What I love about this technology is that the work happens beneath the surface of the skin. When you treat, the surface of the skin is left intact.
The laser has 3 different settings– gentle, medium and "damn-you-aging!" levels. The first setting is so gentle that it feels like your facial skin is just sort of tingling- like you know something's happening, but you can't yet tell exactly what's happening under there. This level is primarily to get you accustomed to using the device in contact with your face and get your skin used to the laser sensation. By the second stage (where I am now), you feel the impact of the laser more like little rubber bands snapping on your skin (not painful, but noticeable). Honestly, I like this part…I feel like I can actually tell something is improving (and honestly it hurts way less than microblading). By the end of each few minute session (five nights a week), my skin is flushed like after a good workout, which is my signal that collagen production is really going on. I love that. I've been using the Age Defying Laser at night, before bed so the temporary redness isn't really an issue (otherwise, you can totally use it during the day, but I'd give it an hour or two before heading out).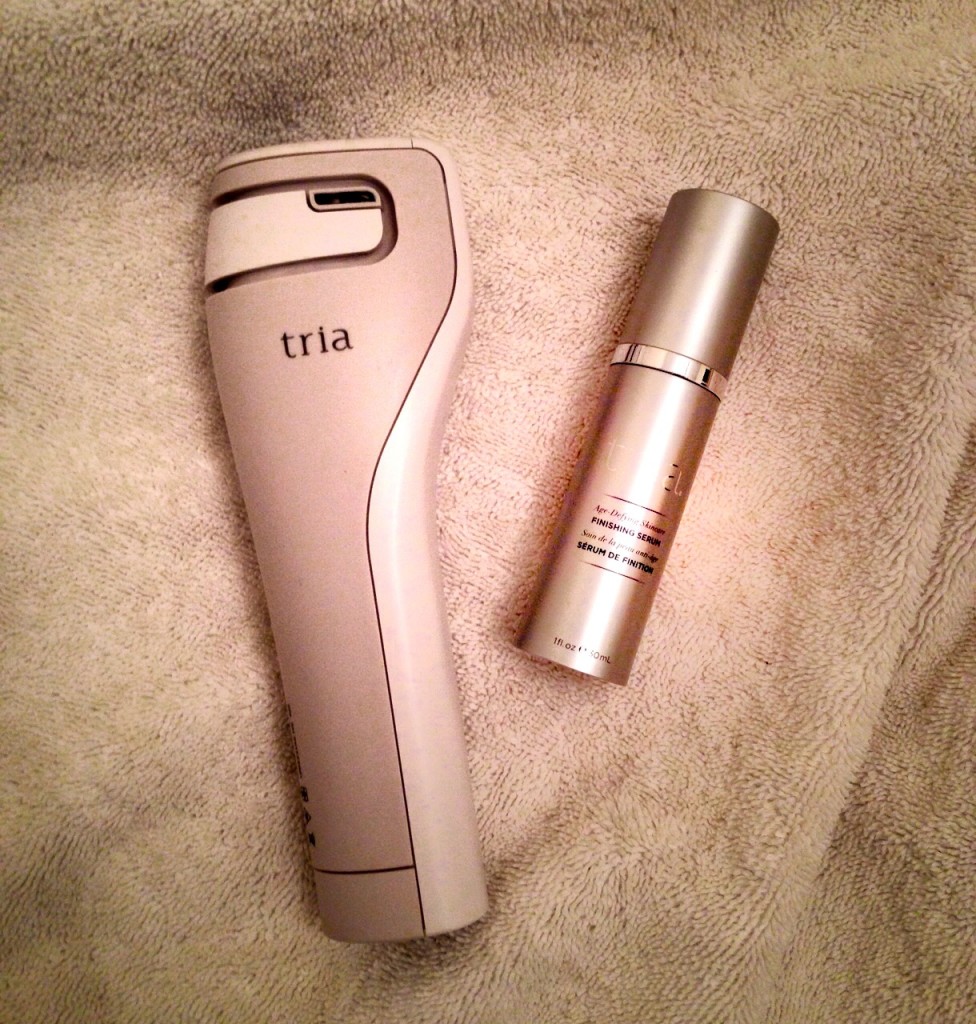 The Tria laser comes with a cleanser and a finishing serum that helps calm, cool and hydrate the skin at the end of each session. Is it weird that I've actually fallen in love with the serum, too? Even on the 2 nights each week that I'm not using the laser itself, I've been using the serum– it's just so velvety (side tip: it totally mixes well with foundation to give light coverage, just saying). While the Age-Defying Laser is definitely an investment at $495, it pales in comparison to spending at least $1000 for a single treatment (and you need several!) at a medispa or derm's office. I love the idea of having an anti-aging arsenal in my own home, affordably, and without the hassle of making appointments and leaving with red skin.
Stay tuned for my updates and progress with the Tria Age Defying Laser. I'm so excited to get my skin glowy and young again!
Love this article? For more beauty, style, travel, and trending topics check out The Luxury Spot on Facebook. Like us and we'll love you back!
This post was sponsored, but these are my real thoughts, feelings and experiences.