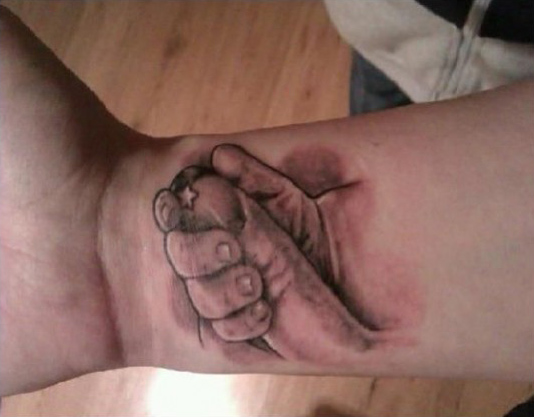 1. Do you really want to commemorate 38 hours of vagina-decimating pain? You already have to deal with the little bastard for 18 years, do you want to be reminded of them every time you look in the mirror?
2. Babies grow up. One day your little bundle of love is going to be a full grown adult and they are going to be embarrassed enough when you pull out old family photos, let alone when you pull out a big saggy wrinkled bosom with an outline of their first hand print caressing your ancient side boob.
3. You probably named your kid something stupid, like Jaden, or Apple. If you get this name tattooed on your body people for the rest of your life will think you are a slutty groupie that only sleeps with poorly named backup dancers from irrelevant boy bands like 98 degrees.
4. The truth is that no matter how great of a mother is, your child could, and possibly will turn out to be a serial killer. If/when this happens you will want to distance yourself from them as much as possible. Having a permanent mark on your body that connects you to him or her is basically like blacklisting yourself from every garden club and homeowner's association for the rest of your life.
5. You are going to have ample opportunities and multiple reasons to screw your kid up. Getting a tattoo of them is giving someone else (the tattoo artist) the opportunity to screw you up too. The woman in the photo above will forever be emblazoned with a baby hand holding a penis, with a star on the tip, all because she couldn't get over how cute it was that her baby was intelligent enough to hold it's mother's finger.
[
via
]