Before reading on, you should know that some of the content in this post is going to be outrageous, and might even be inappropriate or offensive. Just sayin'.
By now you've all heard of Vajazzling, the fine art of vaginal bedazzling.  If you consider yourself the classier type that's not usually found adorned in crystals and Ed Hardy gear, the Vajacial might be more interesting to you for your vaginal beautification needs.  The Vajacial is exactly what it sounds like: facial for your vagina.  You're probably wondering why you're region needs such a treatment, but if you've ever gotten a bad wax you'll be able to appreciate this.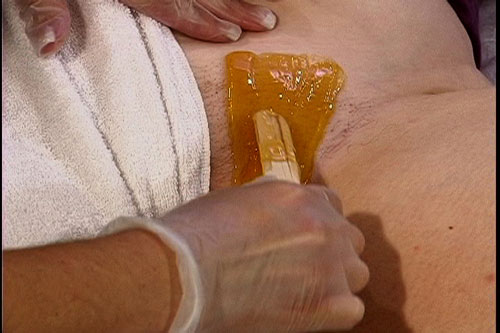 I apologize for even publishing that photo (it's not me, don't worry, it came from Magdalicious), but I had to find a way to illustrate the worst bikini wax experience.  And by the looks of this photo, you can imagine that the skin around and beneath that wax needs some TLC now.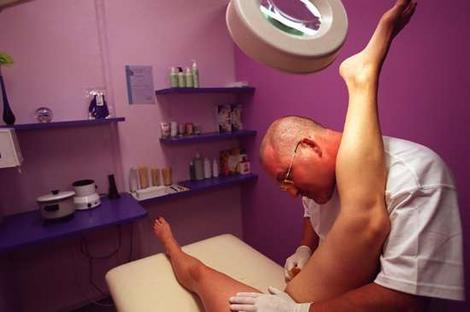 image courtesy of CollegeCandy.com
Thankfully, a San Francisco spa has come to rescue all the tortured labia out there.  The waxing salon, Stript, introduced the Vajacial for women who get brazilian waxes and experience the unwanted side effects like ingrown hairs, bumps, and skin irritations. The treatment is trademarked and takes about 50 minutes to give your crotch the best non-orgasmic experience you can imagine.  It's meant to be performed the week after your wax and involves 4 steps. Antibacterial cleansing with witch hazel, papaya exfoliation, and an esthetician that personally removes your ingrown hairs (now that's service!) are all standard.  The treatment is finished with a calming, anti-freckle, anti-acne mask and a lightening cream.
A Yelp.com review:
"DESPERATELY needed a fix for my poor vajay. It had been waxed by some random nail salon on polk street and suddenly it was filled with in-growns. It was growing these twisted weeds and was in all sorts of trouble.
The answer:
I saw the sign that said "Introducing the Vajacial". Funny but clever at the same time. It is EXACTLY what I needed. I needed a full extraction, scrub and toner. For around $60, Katherine took her time to work gently and made sure to keep everything very sanitary.
The space is wonderfully decorated and Katherine is a very clever and skilled business woman. I recommend stript to anyone who has had a brazilian nightmare. Go here, your hubby will be happy."