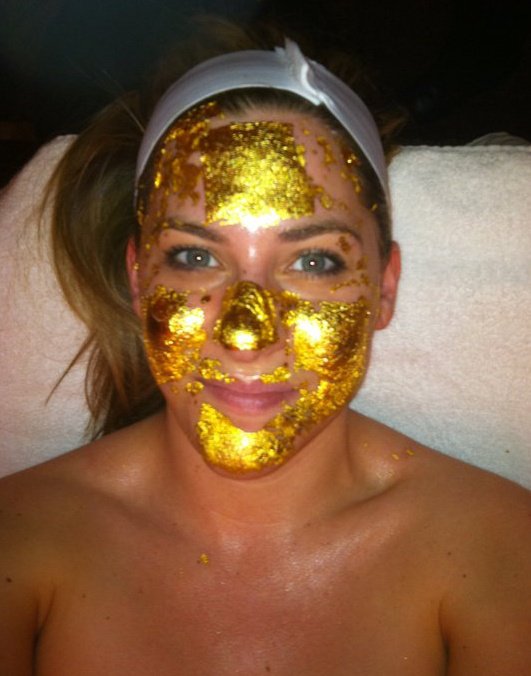 We may be veterans to the Spa Week scene here at TheLuxurySpot.com, having celebrated whole-heartedly with treatments like Vajazzling at Completely Bare and Lip Plumping at Smooth Med when it comes to Spa Week, we still get giddy with joy for $50 Treatments all over the country. Known for keeping us in the loop with all the clean gossip and mud-mask dirt on the goings on, we hit up Spa Week's SPA-lebrity blogger and tweeter Michelle Joni (tweet her here) to get her recommended $50 feel-good sessions for October 10-16 all over the country. She's dished on the good, the spotted and the placebo effect and the Gold Facial (which she is receiving, if you couldn't guess, in her picture above – available at Spa Martier this Fall Spa Week for, you guessed it… $50!).
Michell Joni's Top Picks (and WHY!) for Fall Spa Week 2011



$50 (60 Min) The "Don't Look Like A Giraffe" Pigment Reduction Facial in Arlington, TX (Dallas/Ft. Worth)
Where: Symmetry Cosmetic Surgery Center: 1001 West Mitchell Street  Arlington, TX 76013 (817.275.920) (website)

Why: Did you know brown spots add 5-10 years to your age perception? Giraffes may not mind one bit, but you on the other hand want NO such illusions. This treatment includes DERMAPLANING (an awesome, painless, skin scraping that also removes vellous hair), followed by a vitamin C mask. Sun damage, PEACE out!
$50 (60 Min) Vibrational Healing Massage with October or December Creation Course
Where: Asante Holistic Health Center and World School: 3 Locations – San Francisco, Pleasanton, Corte Madera (San Fran Bay Area) (website)
Why: Okay, a $50 Spa Week treatment that comes with a glass of champagne is very nice. But $50 Spa Week treatment that comes with a 3-day, play-intensive COURSE that trains you to create the life you want? Unprecedented! After enjoying a unique, vibrational clothes-on massage to work joins, muscles, ligaments and bones, it's time to get spa-schooled to profoundly transform your life. They'll teach you how to leveraging the POWER OF…

…The Mind

…Intention

…Attraction and Manifestation

…The Placebo Effect

…"The Secret"

…Conscious Creation

…Prayer

…Positive Thinking

…The Law of Attraction

…The Laws of Success
$50 (50 Min) Penterra Body Balancing,  including Aromatherapy Foot Soak, Penterra Massage and Signature Five Gems Body Balancing Therapy
Where: Penterra Spa at The Heathman Hotel: 220 Kirkland Avenue  Kirkland, WA 98033  (425.284.5855) (website)
Why: One thing I love is when a spa treatment is more like 7 spa treatments in one. It's cool to discover the unusual rituals popping at a spa; to learn their holistic beliefs. This Penterra package is 30 minutes of massage with a whole slew of fun balancing therapies, followed by choice of scalp or foot massage. (Can I choose both??)
$50 (50 Min) Hypodermologie Visage with Far Infrared Waves
Soleil Spa at Palm Aire:  2601 Palm Aire Drive North  Pompano Beach, FL 33069 (954.968.2787) (website)
This unique and exclusive treatment really caught my eye this Spa Week. It's a facial that treats imperfection at their source, stimulating natural biological processes using Far Infared Waves at the SAME frequency as the human body. It causes a slight increase in temperature and improves tissue exchange to help in the production of elastin and collagen. ALL good things, my dears!
$50 Skin Tightening (normally $528!!!!)

Where: American Laser Skincare – ALL LOCATIONS throughout New York, California & Illinois (website)
Why: Gravity's a bitch! Until we are all able to live in outer space, something we all get to dread is the day we wake up and our skin is sagging off of our chins trying to touch the floor. Skin tightening treatments are the spa's way of preventing this. American laser Skincare is offering a great non-invasive Skin-Tightening treatment that's completely natural looking. By stimulating healthy collagen, the skin tightening process firms sagging skin and fills in wrinkles at your jaw line, eye area, mouth and cheeks. Skin tightening actually jumpstarts organic cell growth, making your skin look and act more like the way it might on the moon.