Completely legal ways to make money online with your body.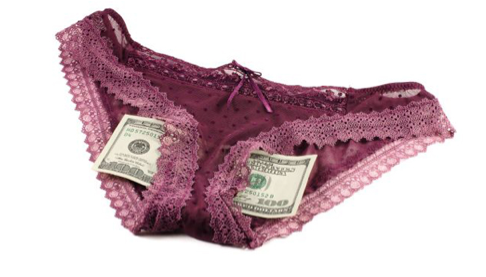 I have never technically sold my body, although I did have sex for a pair of shoes once. Transactional sex aside, if you are a little strapped for cash, there are plenty of other ways you can make money. Besides orifices, the human body has hundreds of other useful moving parts, so here are a few ways you can use what God gave you to make some money online, without risking jail time:
Mouth: A woman in South Korea makes $9,000 per month by eating food on Youtube for "Gastro Voyeurs". She is known only as The Diva, and eats food for 3 hours a day online. Surprisingly enough, she isn't fat.
READ MORE: How to Say Whore in Any Language
Hair: Debra Yerga sells her hair online at hairwork.com, and made $4,000 by selling 31 inches of her luscious locks. If you have a high metabolism and fast-growing hair, forget cancer patients and make some cash money!
Face: British kids Ross Harper and Ed Moyse created a website called buymyface.com and sold advertising spots on their faces for a full year. They ended up making $50,000 to settle their student loan debt.
Soul: In 2008, Mike Merrill divided his 'soul' into 100,000 shares, and sold them for $1 each. He gave investors voting rights to his life, including whether or not he should get a vasectomy. Shares for Mike's soul have since gone up to $5 each, and can be purchased at kmikeyk.com.
Panties: Yes, there are people out there who pay good money for used panties. In case any of you savory girls out there are interested, the URL is sellpantiesformoney.com.
[
via
]