There's a lice outbreak map that lets you track exactly which cities and states these little beasts are conquering.
Bad news, people with hair — August and September are peak head lice seasons according to Johns Hopkins Medical Institutions, and that's all thanks to schools opening again and kids touching, well, just about everything.
"Back to school is generally the largest uptick in lice we see at my salon," shares Cozy Friedman, Founder of Cozy's Cuts for Kids Salons. "Children return from a summer of camp, playdates, and the pool and have an increased chance of carrying lice which can be spread around easily in schools. There's really no demographic — it can touch anyone."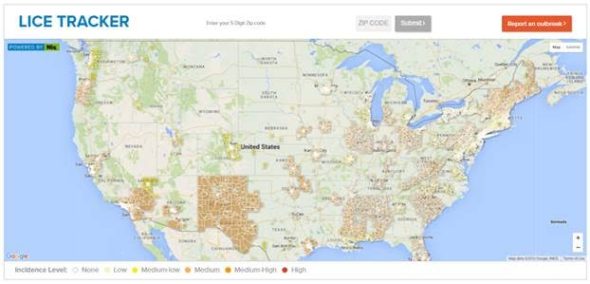 Nix, the top selling pharmacy brand for head lice treatment, just released an eerily scary and addictive live Lice Tracker map, though — and it's worse than watching a category 5 hurricane tracking map, because hurricanes are relatively temporary, while you know totally infested cities are bound to battle with disgusting head bugs for months to come. While the launch isn't official for a few more days, you can preview the Lice Tracker app here. According to the tracking map, this week's biggest infestations are in Houston, Orlando, and San Diego (as if those cities don't already have enough problems).
READ MORE: Girl embeds subway chip in her nails, proves she's a genius
The app tracks lice outbreak situations and risks by way of parents, care givers, and school nurses across the country uploading data of their own, plus tracking IRI data from all over-the-counter lice product sales and Google trends.
I tried tracking my own Midtown, NYC neighborhood and was pleased to find that my kids are basically safe from a lice outbreak this week — but the Upper West siders just a few blocks away are in more serious trouble, as are the people I grew up with along the beaches of Boca Raton, Florida.
"There really is no regionality when it comes to lice outbreaks," says Cozy. "They do NOT discriminate."
You can check your own zip code here.
Love or hate the idea of tracking a lice outbreak? Weigh in below: